New Light Theatre is a Delaware based nonprofit theatre with a charitably focused mission: to partner each production with a thematically connected charitable cause, and to raise awareness and financial support for that organization throughout the course of the production, and beyond.
NLT is a product of the combined powers of co-founders Lena Mucchetti, Tom Mucchetti and Newton Buchanan, an unreasonably close trio of theatre artists, bonded in the trenches of years of professional and educational theatre. Having developed complementary skill sets, a knack for reading one another's minds, and a passion for creating meaningful artistic experiences, particularly with students in the beginning stages of their artistic development, Lena, Tom and Newton set out in 2018 to mount a passion project, a production of Next to Normal.
Thanks to the unexpected and overwhelming community support, generosity of donors, and the completely sold-out run, the three were able to set aside a portion of the funds raised to make a donation to The Brain and Behavior Research Foundation, an organization committed to alleviating the suffering caused by mental illness, the subject at the heart of the show. Thus, a mission was born, and New Light Theatre was officially founded based on this model. Staying true to the roots of educational theatre, NLT's mission also places a special emphasis on providing opportunities for student and emerging theatre artists to work in a professional setting.
 NLT believes that theatre has the power to be a force for change in the world, to bring light to the darkness, to connect us in the human experience and deepen our empathy and understanding of one another. The company therefore pursues the idea of illuminating and contributing to thematically connected charitable causes that improve the human condition with each production mounted. In addition to a portion of proceeds being given to NLT's partner organization, New Light Theatre uses their social media platforms and physical lobby spaces at productions to amplify the work that these nonprofits do in the community, educating audiences on the resources available to them, and ways to become better advocates in their community. Representatives from the partner charity are also invited into the rehearsal process to give a training session to production cast and crew, allowing artists to be better informed voices for the cause, and informing more truthful and respectful representations on stage. Partner charities are given a block of complimentary tickets to performances which they can distribute to the communities that they serve.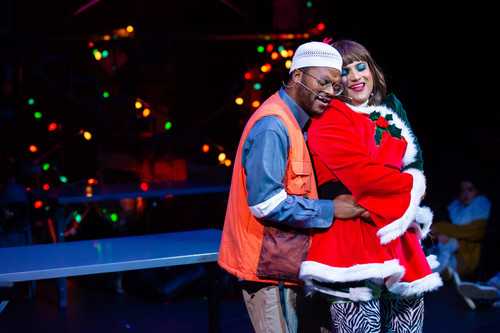 Since its founding, New Light Theatre has produced five in-person productions, including Othello in support of the Delaware Coalition Against Domestic Violence, and Shakespeare's R&J in support of PFLAG. During the pandemic, NLT pivoted to virtual programming, including two fully mounted streamed shows, a podcast style interview and tutorial series with a variety of industry professionals, and a monthly music video. The latest NLT production, RENT, raised $1,000 for AIDS Delaware, and RENT cast members continued their support of the organization, even after the curtain fell, by performing at the AIDS Walk in September.
Thrilled to return to a full season of in-person programming, NLT is kicking off 2023 with New Light Night, their annual fundraiser gala, an evening of food, drink, and music, celebrating and supporting the NLT family. This year's event will take place at OperaDelaware Studios on January 7th. In March, NLT presents Arthur Miller's A View From the Bridge, directed by Megan Bellwoar, in support of RISE, the Refugee Integration Support Effort, a division of Jewish Family Services. For more information on NLT's mission, upcoming productions, or for tickets to New Light Night, visit www.newlighttheatre.com.
New Light Theatre is a 2022 Theatre Philadelphia MAP resident company!