WELCOME TO THE 2022-23 SEASON!

Theatre Philadelphia is a non-profit organization dedicated to celebrating Philadelphia's diverse and growing community of theatres and audiences.
We are excited to announce our 2022-23 initiatives! Read on to learn more, and join us on Tuesday, June 7th at 2pm for a Theatre Philadelphia Q&A.
NEW PROGRAMS AND OPPORTUNITIES
Applications Open June 1-July 1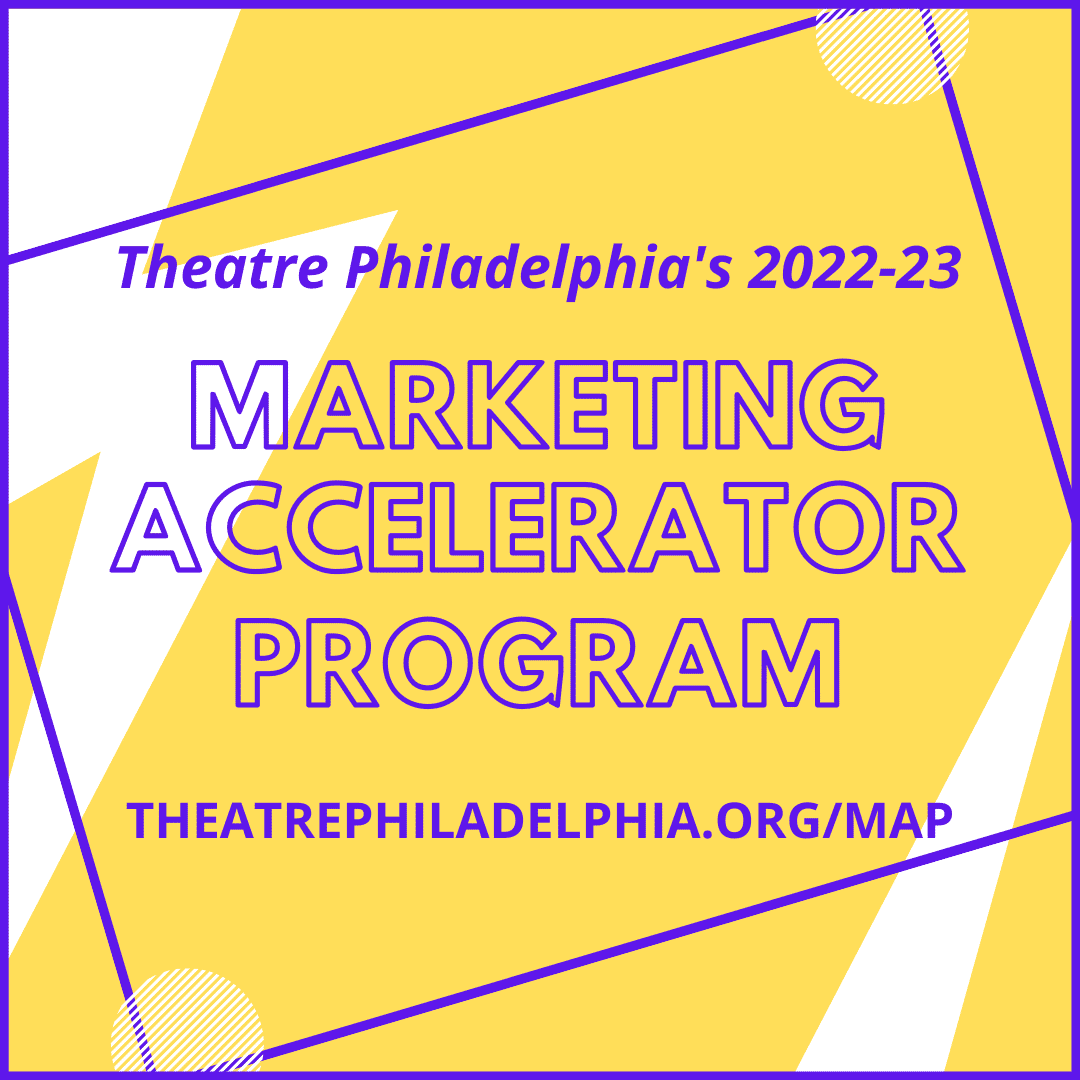 In the 2022-23 Season, Theatre Philadelphia will continue to build our marketing initiatives, develop new programs, and leverage the reach of our organization to raise awareness for organizations and collectives with smaller budget sizes. We are pleased to announce the launch of our Marketing Accelerator Program! Open to up to 3 participants each year, this new program will provide marketing resources and advertising support through Theatre Philadelphia channels at no cost.
Applicants must meet eligibility requirements and have an annual operating budget of $100,000 or less.
Learn more about benefits and eligibility.

Apply Now!

Interested in sharpening your theatre criticism and content creation skills? With support from the Pennsylvania Humanities Council, Theatre Philadelphia is pleased to announce our new initiative: the Theatre Philadelphia Content + Criticism Cohort. Up to 10 participants will join a series of 5 monthly workshops and intensives. Participants will leave the program with a Certificate of Completion, new skills in writing and theatre criticism, and a set of new critical content for their own portfolios. A small stipend will be provided to participants.
Theatre Philadelphia's Content+Criticism Cohort workshops will take place from August - December, 2022.
Learn more about benefits and program details.
SAVE THE DATE
Theatre Philadelphia's 2022 Fall Celebration

Save the date! On Monday, November 7, Theatre Philadelphia will host our annual Fall Celebration to bring together Philly's community of theatre artists, audiences, and organizations. At this time, we'll be announcing the recipient of the Philadelphia Award for Social Insight, along with new initiatives for the annual Barrymore Awards program. We can't wait to see you there!
More details will be announced soon!
2023 Philly Theatre Week

Save the date! Our biggest annual Philly Theatre Week is just around the corner. From March 23 - April 2, 2023, join theatres across the region and experience new shows with exclusive Pay What You Can tickets.
Registration Open: November 7-December 20 (Free)
Late Registration: December 21 - January 4 ($25)
Tickets On Sale: February 23
More details will be announced soon!
2022-23 INDUSTRY CARD

What Is the Industry Card?
Theatre Philadelphia's Industry Card Program is designed to expand industry discounts for those who work in theatre in the Philadelphia region. Through this program, Theatre Philadelphia seeks to:
> Foster an equitable and inclusive theatre-going experience for local theatre practitioners.

> Ease the purchasing process for theatre practitioners, and in turn simplify procedures for theatre box offices.

> Establish an easy-to-use benefits card, with perks including access to information about industry discounts at participating theatre organizations, a comprehensive monthly newsletter of shows and events, as well as special promotional offers throughout the year. 

> Share regular industry updates and company news!
For Practitioners

Enroll Now
The 2022-23 Industry Card will be valid through June 30, 2023. This year, industry card enrollment is free of cost to theatre workers and practitioners in the region.
For Theatres

Enroll Now
Submit your theatre's industry benefits or industry news for distribution to theatre artists and workers across the region. A nominal fee of $40 will be applied for annual participation. This fee will include:
> Marketing benefits: Your industry news, announcements, and industry benefits will be shared with practitioners upon enrollment and distributed to practitioners across the region on a monthly basis.

> Box office benefits: The Industry Card program is a standardized regional proof-of-industry program that fosters an equitable and inclusive theatre-going experience for local theatre practitioners.

> Administration: This fee will support Theatre Philadelphia's administrative efforts to facilitate the Industry Card program.

> Practitioner Support: This fee will allow our region's theatre workers to register for Theatre Philadelphia's industry card and receive industry news at no cost.
SUBMIT A SHOW
2022-23 Barrymore Submissions

The Barrymores are back! The next season of adjudication will begin on July 1, 2022 - June 30, 2023 with the culminating ceremony taking place in Fall 2023.
Learn more about this year's eligibility requirements, submit a show for adjudication, or apply for a cash award by visiting our website.
Learn more about the Barrymore Awards
Advertise With Us

Show listings, dedicated newsletters, social media, and more! Advertising with Theatre Philadelphia ranges from $75-$500. Submit your shows, fundraisers, classes, community events, or other upcoming program offerings by filling out a brief form on our website.
If you are submitting a show for the Barrymores, you will not need to fill out a separate advertising submission.
Download the 2022-23 Advertising Guide
JOIN US
GPAA Audition Day

College Day: Monday, June 27th

The Re-Entry Committee of Philly Theatre is pleased to announce the return of the Greater Philadelphia Annual Auditions after a two-year hiatus. The GPAAs return this June with the College Audition Day, open to recent or upcoming college graduates from theatre arts programs in Greater Philadelphia.
Visit our website for more information and registration details!
Feel the Love Happy Hour

Thursday, June 9th

Feel The Love Happy Hour brings area non-profits to The Trestle Inn! 
On Thursday, June 9, Join Theatre Philadelphia from 6pm-9pm. Meet up with the Theatre Philadelphia staff, connect with members of Philadelphia's theatre community, and play some theatre trivia! 
Featuring the How Deep Is Your Love Cocktail and Happy Hour specials. 20% of all Feel The Love Happy Hour sales are donated to Theatre Philadelphia!
Theatre Philadelphia Staff Q&A

Theatre Philadelphia has so many exciting things in store for the 2022-23 season! Have questions? Want to learn more? Just want to say hi to LaNeshe, Katherine, and CJ? Join us on Tuesday, June 7th at 2pm.
YEAR-ROUND RESOURCES AT THEATRE PHILADELPHIA

 
Discover new performances and get involved!
Stay up-to-date on all of the latest in Philadelphia theatre!
The ARAC will work to further research, develop, implement, and maintain accountability for anti-racism initiatives within the organization and beyond.
Emergency Relief will award micro-grants with a sliding scale of $300-$500 to individuals who live in the Philadelphia region, work in theatre, and whose theatre income has been impacted by an emergency situation.
We've partnered with Art-Reach for Access Live. The ACCESS Program allows Art-Reach ACCESS Cardholders and people receiving benefits from the states of Pennsylvania and Delaware to attend cultural sites for just $2.
The Theatre Philadelphia List-serve provides an easy way to connect with fellow theatre community members via one convenient email address.
Philadelphia's leading job board for theatrical opportunities, with thousands of unique viewers each week.
Visit our website at www.theatrephiladelphia.org!
SUPPORT US

Theatre Philadelphia leads efforts that expand audiences and engage the public to participate in our community's work. Theatre Philadelphia envisions an equitable and inclusive region that champions and nurtures local artists. We aim to raise our city's profile as a world-class city and enrich the lives of Philadelphia-area citizens.
Who We Serve:



> 100+ Passionate Volunteers and Community Leaders

> 100+ Theatres, Producers, and Cultural Organizations Across Greater Philadelphia

> 1,000+ Professional Artists and Theatre Workers

> 15,000+ Dedicated Audience Members
Past sponsors have included individuals, artists, organizations, and businesses who are passionate about the performing arts in Philadelphia!
 
Your contribution supports our new initiatives to spread the word about Philly Theatre! Additionally, donations support Theatre Philadelphia's Emergency Relief and program administration, programs that serve Philadelphia's organizations, artists, and audiences, and our mission to promote the Philadelphia region's diverse theatre community.

SEE YOU AT THE STAGE!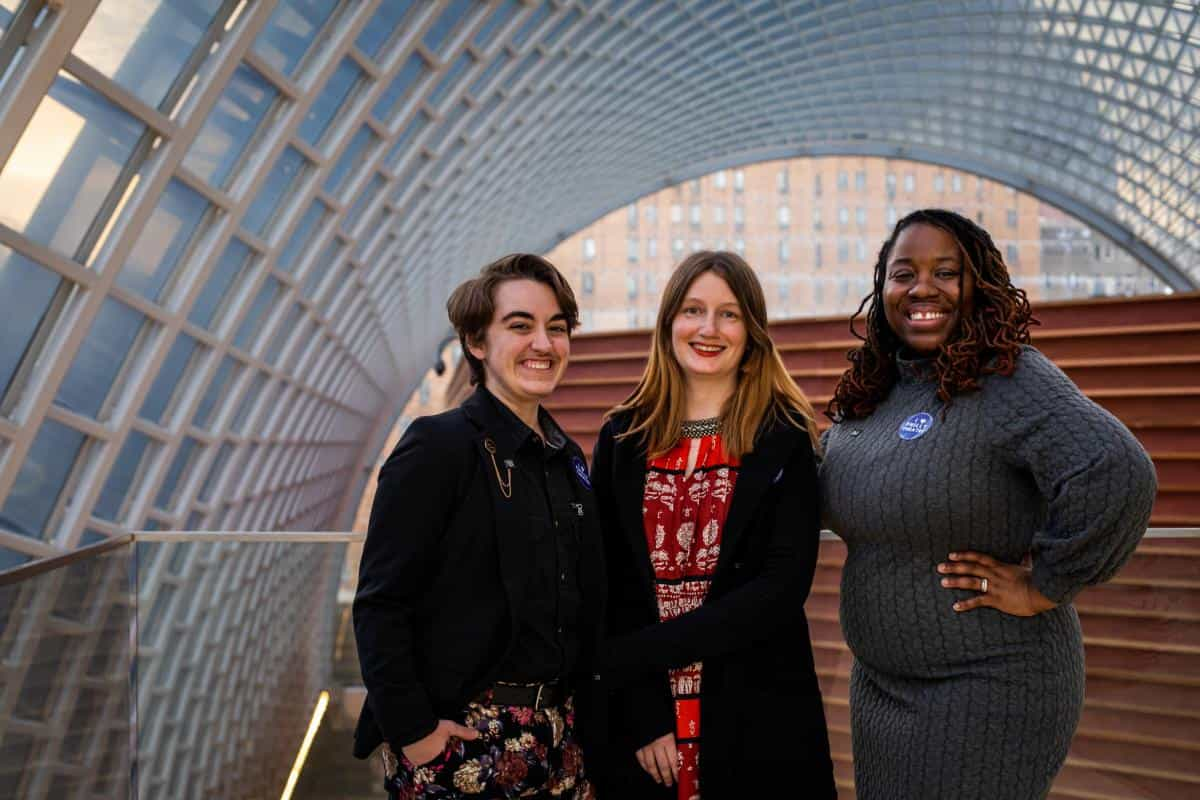 Theatre Philadelphia Staff Photo: Wide Eyed Studios


Find the Latest in Philly Theatre: