Philly Theatre Week - Gauri Mangala and smj discuss "Untitled Raccoon Play"
Theatre Philadelphia Criticism Cohort member Gauri Mangala speaks with playwright smj about their upcoming reading of "Untitled Raccoon Play." They discuss the Philly theatre scene, the timeliness of this political moment, and, most importantly, raccoons.
Play Synopsis 
Every year, the Danville, OH Lions Club hosts the annual Danville Lions Club Raccoon Dinner, the hugest fundraiser in town. However, it's 2022 and the 79th Annual Raccoon Dinner is on the chopping block due to rising COVID rates, a missing member, #liberalsnowflakes, deficient funds, and a lack of cooperative raccoons. But now an ominous warning from QAnon has one member ready to defend their club… at all costs. Meanwhile, the Danville, OH Raccoon Club is facing an uproar following dubious election results leading up to the 79th Annual Raccoon Dinner. A satire of young, queer conservatism in small-town Ohio, whiteness, anti-vaxxers, and the American Dream, Untitled Raccoon Play ends where it begins: with six people trapped in their mother's house, scared shitless.
Playwright Bio
SMJ (they/them) is an NYC-based, mixed-Latiné, and non-binary playwright, educator, and theatermaker originally from Mount Vernon, OH. They are a 2022-2023 Dramatists Guild Foundation Fellow. Their work has been seen in various forms throughout the US including The Fled Collective at The Flea Theater, Eugene O'Neill Theater Center, Carnegie Mellon University, Otterbein University, Wright State University, The Workshop Theater, DR2 Theatre, Latiné Musical Theatre Lab, Art House Productions, Fort Salem Theater, and Access Theater. SMJ has been a semifinalist for the Eugene O'Neill Theater Center's National Playwrights Conference (two times), the Princess Grace Award at New Dramatists, and The Civilians' R&D Group (two times). They're a graduate of Otterbein University and the National Theater Institute at the Eugene O'Neill Theater Center. SMJ is a member of the Dramatists Guild and Ring of Keys. www.smjwrites.com
*This Q&A interview has been edited down for brevity and clarity.
Gauri: Obviously there's a lot of grittier things to talk about but I think the thing that is really pressing for me is: why raccoons?
SMJ: This is real. The Danville Ohio Lions Club actually does the raccoon dinner every year. It's the biggest fundraiser in the community. These people eat and trap 500 pounds of racoon. People from all over the world sometimes come to try it.
Gauri: With this play, you have these queer, specifically trans and non binary characters who are engaging in polyamory are exhibiting racist, nationalistic, anti-vax rhetoric. How much of that is hyperbolic and how much of that is indicative of a real thing?
SMJ: In the age of being chronically online, what seems hyperbolic isn't actually that far from the truth anymore. Unfortunately, I had to do a lot of right wing research, like read all these terribly written Breitbart articles and watch Q documentaries. I'm not saying "the left is better" because there's still some racists in the left space and transphobes, even in the queer space. It's not too hyperbolic. It's blown up because some of it is sourced from Facebook, which, you know, those people would not say in real life. But not too far from the truth.
Gauri: You, as a queer playwright, are saddled with this responsibility of how you decide to depict queer people. In this moment, some people would argue that trans and nonbinary people are the most at risk people in this country right now so, "how dare you critique them more"? Where do you sit in that argument, with this play and all of your plays, about how you choose to depict specifically queer people as three-dimensional shitty people?
SMJ: I think it's irresponsible of us to not acknowledge that there are bad people within our own spaces. I don't think criticizing bad actors in our spaces adds to the overall vitriol that comes from the outside because that part has to be equal. This is not a pro-right wing thing, it is also not anti-trans or anti-queer. It's just showing that the two do exist and anybody can be swept up into conspiracy theories.
Gauri: It's struck me how much plays dealing in socio-political commentary have been affected by the last seven years of the world. Playwrights have to contextualize those types of plays - with this play specifically you reference Brett Kavanaugh, you're talking about the pandemic, you dramatize the insurrection. How much does it feel like a responsibility to you to turn the last seven years into a period piece whenever you're writing about these topics?
SMJ: If you're writing right now, it's your job. We keep talking about how theatre needs to be for the moment. We're running out of time. It's my job now. I don't have time to lie. Yes, I can make it funny. I think a lot of the racoon stuff is funny because when we are balancing queer, which is inherently a left wing thing and QAnon, which is alt right to the max, there's truths on both sides and I think that's where the funniness of the play is. We're not too far off because each side thinks each other is insane.
Gauri: Looking at the commerciality of New York, I see Philadelphia as the beacon of theatre that has a call to action at the end. But for you as a New York playwright, why Philly? Why this play?
SMJ: Most of my favorite collaborators are all Philly-based. There's something about Philadelphia and you think about the Liberty Bell and the Constitution…talking about a show about the state of America in the play we associate with Liberty's Kids, I just think it's politically urgent. The theaters there are a lot more interesting to me. The work that Philly is doing is a lot more bold. I'm so pumped to make a trip to Azuka Theatre soon. The Strides Collective is a company that I feel really strongly about. I just think Philly feels less afraid to try stuff.
Gauri: On that note, how do you want audiences to react to this?
SMJ: I want everyone to be a little scared. These people are not good people and I think you'll know that from the moment QAnon is introduced. And you should be unsettled. Both sides are very far apart but there is also the undercurrent of "no one is perfect" and we all say things that are a little too close to the other side. So what happens when you are forced for 90 minutes to deal with that?...Even if the characters are raccoons or even if the characters are gay, white people?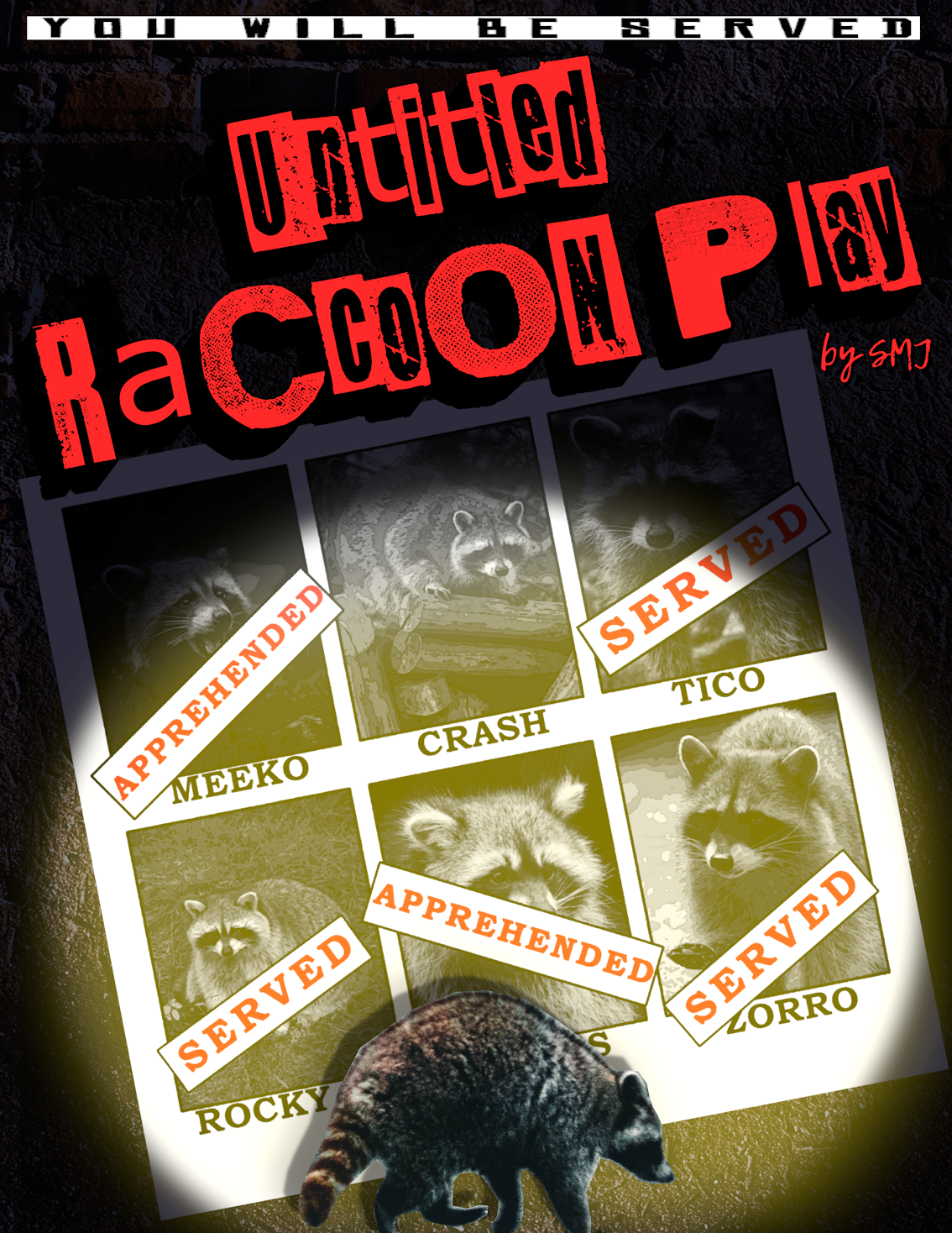 Untitled Raccoon Play
Written by SMJ
Directed by Nicholas Hatcher
Assistant Director - Sheridan Merrick
Producers - Taj Rauch, Monti Cerabino
Intimacy Director - Zoe Nebraska Feldman
Dramaturg -  Julia "Juju" Nieto 
Hamilton Family Art Center - Arden Theatre Company (62 North 2nd Street, Philadelphia, PA 19106)
Performances: Saturday, April 1 at 7:00pm and Sunday, April 2 at 1:00pm & 7:00pm 
Every year, the Danville, OH Lions Club hosts the annual Danville Lions Club Raccoon Dinner, the hugest fundraiser in town. However, it's 2022 and the 79th Annual Raccoon Dinner is on the chopping block due to rising COVID rates, a missing member, #liberalsnowflakes, deficient funds, and a lack of cooperative raccoons. But now an ominous warning from QAnon has one member ready to defend their club… at all costs. Meanwhile, the Danville, OH Raccoon Club is facing an uproar following dubious election results leading up to the 79th Annual Raccoon Dinner. A satire of young, queer conservatism in small-town Ohio, whiteness, anti-vaxxers, and the American Dream, Untitled Raccoon Play ends where it begins: with six people trapped in their mother's house, scared shitless. (Runtime: 95 minutes)
Featuring Zoe Nebraska Feldman, Anne-Marie Pietersma, Stephen Perkins, Abby Messina, Mary Callahan, & River von Waldron