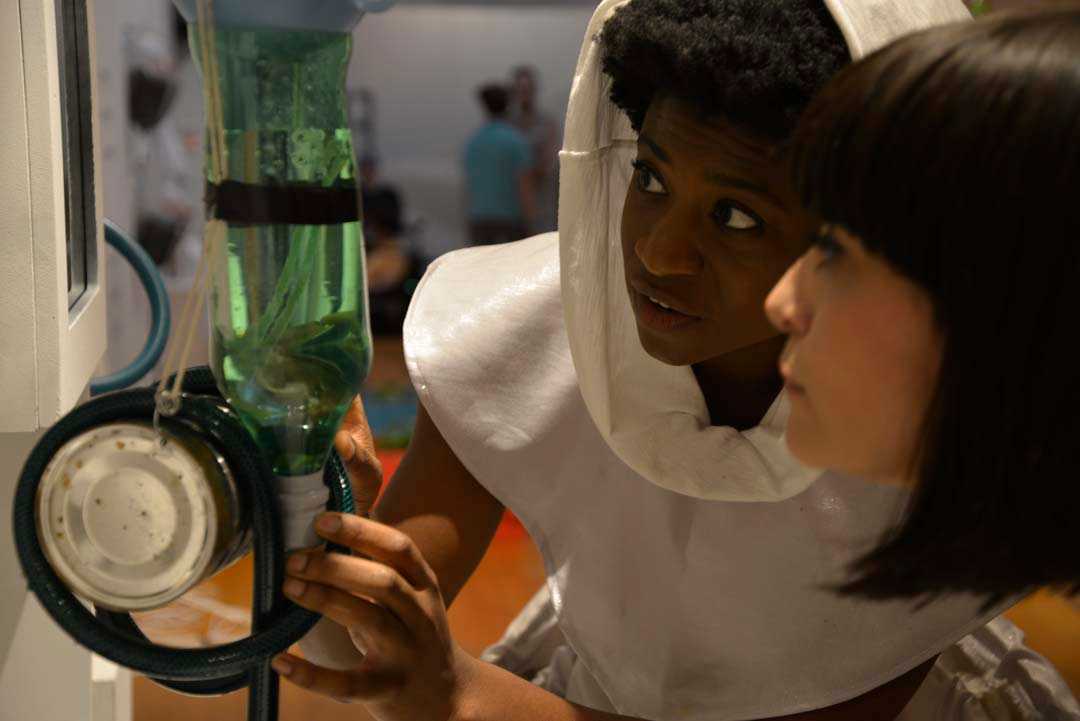 Photo: Tasha Doremus
Applied Mechanics makes plays! The plays Applied Mechanics makes are also immersive installation experiences. There is no proscenium, no fourth wall. The audience seating and the set are not separate and distinct from one another. That said, each audience member's experience of an Applied Mechanics show is unique. In order to illustrate this point, each member of the company answered the prompt, "What is an Applied Mechanics show like for an audience member?" Their responses are below:
Radical performance created in a temporary museum. The audiences can travel, and explore the space at their own pace. The plays leave audiences with a new understanding of their own world and a provocation for the future.
 – Brett Ashley Robinson
There are invitations: to sit, enjoy, and watch a show unfold around you, to follow a character(s) on their journey, or both. It's a real choose-your-own-adventure type of experience. The plays are speculative futures/histories, telling stories across time and space. You might join strangers at a table. You might witness the making of a punk song, an interpretive dance of a friendship spanning decades, an embrace between two characters, or a collective embracing change.
 – Severin Blake
it's a wonderland of creativity and storytelling. you feel welcomed and included, but not in a weird way, and not in a fake way. in a real way, in a sweet way. in a totally sincere, totally important but also totally casual way. i always feel like i'm leaving my reality and getting a glimpse into a world where care is the central logic, play and connection are the driving motors. i feel delighted, engaged, inspired, moved, surprised, and celebrated. i feel curious and gentle. i laugh, i cry, i move, i follow. i get to spend time with my own impulses, and when i feel tapped out i get to follow an amazing performer and learn about the story they are weaving around me. 
– izzy sazak
Being at an Applied Mechanics show means theater up close and your way – you get to choose where to go, find out secrets, have performers speak to you and only you. You can watch from a distance or get really intimate. You'll be surprised and moved and have an experience that's only your own – no other audience member sees exactly the same show that you see! It's theatrical magic and theatrical community. It makes the whole world more magical for a few days after you see it. 
– Jessica Hurley
You're moving through the fourth dimension — time is liquid and you're swimming in it, peeking in on the beginnings, ends, and middles of stories simultaneously. It makes you feel very moved to be a human with one short life, seeing how these seemingly inconsequential moments all move together to become something of great beauty. Someone once said of our work, "you're as likely to see a character doing their hair as you are to see them starting a revolution…" It's true! And both moments are important in the life of the story.
 – MK Tuomanen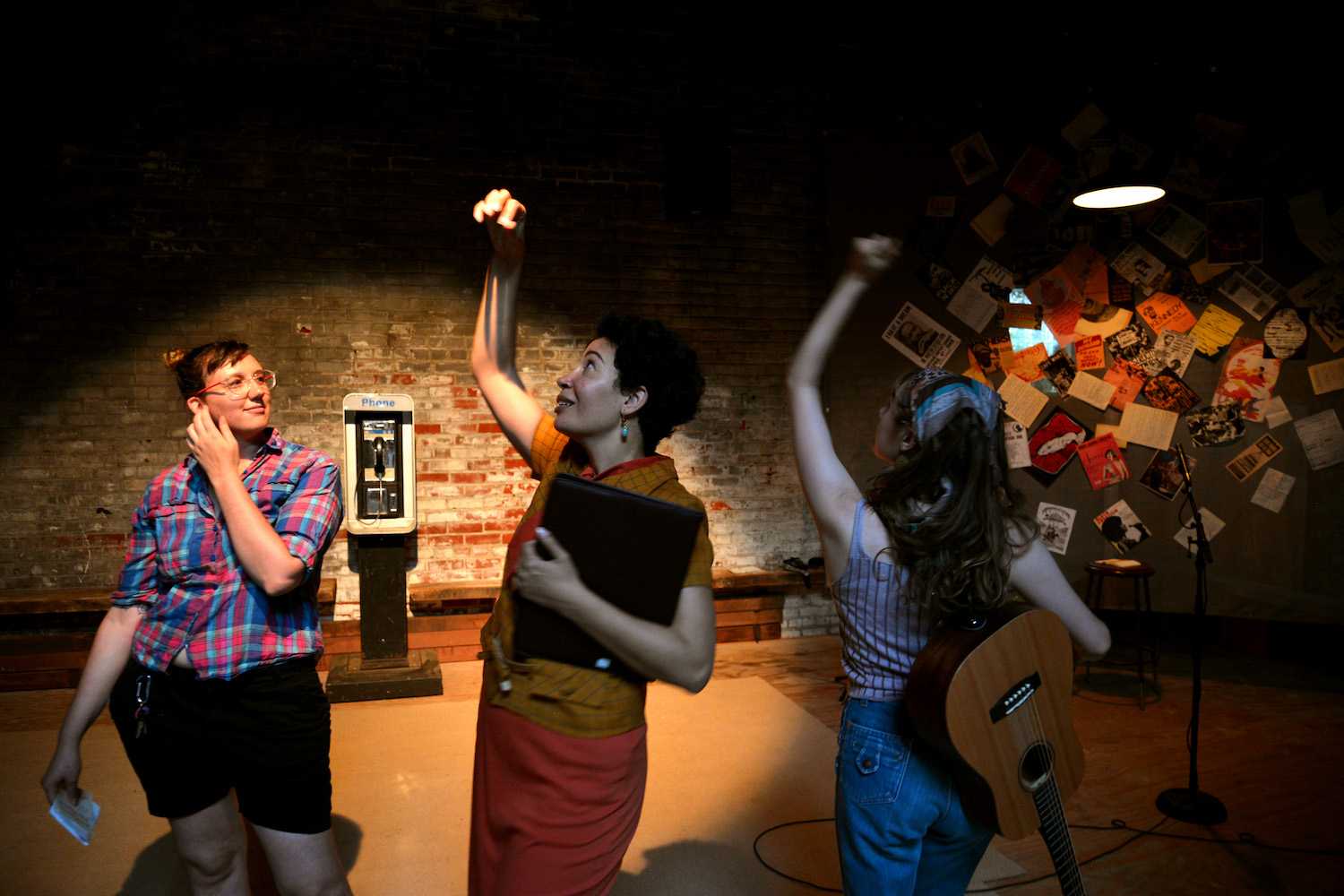 Photo: Tasha Doremus
You don't have to sit back! Applied Mechanics invites you to be curious about the world we have created. You can walk, move, and explore- read a letter, taste the cooking, or dance alongside the characters. We provide opportunities for interactions with the world we created. Audiences can explore the world beyond the script!
 – Thomas Choinacky
An Applied Mechanics show invites you into a world in action.
You are in charge of your own experience: you can look at one thing, while listening to another. You can craft your own juxtapositions of sound and image. You can edit together your own journey through this world, this story, this full and active community.
An Applied Mechanics show surrounds you, draws your attention to corners, offers you details that have been carefully tended, and brings you into relationship with characters who never exit, because it takes all their stories to make the world.
 – Rebecca Wright
There you have it. A range of styles and perspectives with resonant themes of agency, intimacy, history, and community. Each company member brings their own experience to the prompt and to each play we make. We invite audience members to do the same. With all this talk about audience experience you might be wondering, "When is the next Applied Mechanics live show happening?" OTHER ORBITS the live show premieres this summer July 9-22!!! Visit https://www.appliedmechanics.us/ for tickets and more info about the upcoming show. We can't wait to share it with you!
Photo: Wide Eyed Studios