By Frank Schierloh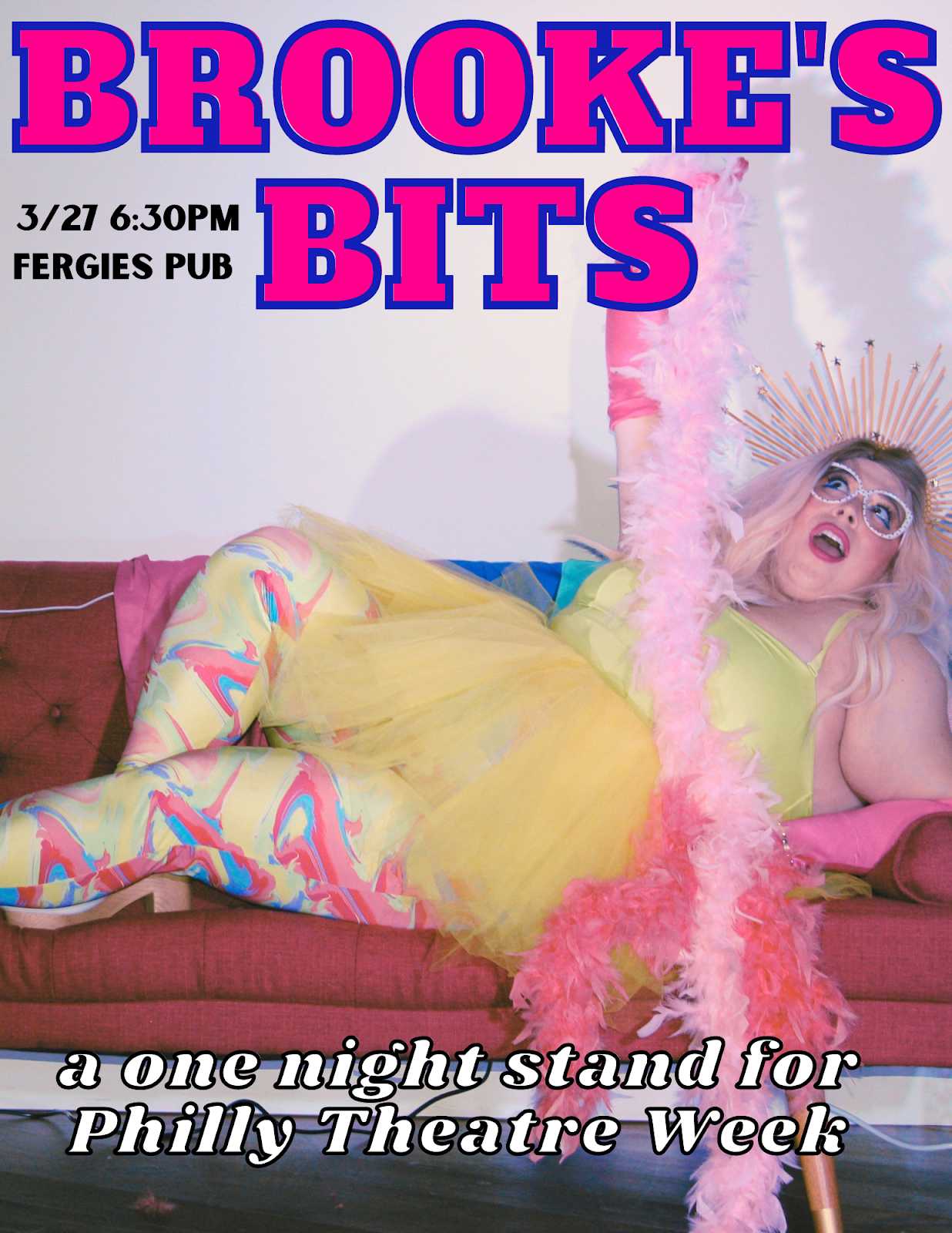 For the past six years, Theatre Philadelphia, the organization that helps support and showcase theaters in the area, has been hosting its annual Theatre Week: a week-long celebration of arts organizations, artists and audiences of the Greater Philadelphia region, that showcases over 50 pay-what-you-can events. One of the events joining the line up this year is Sex Talk (Brooke's Bits), an "ongoing, immersive, feminist, sex-positive, sometimes-cabaret, sometimes-social-experiment, featuring parodies of some of Broadway's most beloved standards". This one-person show is written and performed by Katherine Perry (they/she), who plays the tit-ular (see the pun?) Brooke Spitz, a self-proclaimed sexpert who likes to host and guide their audience through an experience that is both entertaining and educational. 
Sex Talk is a show that has been around since its original inception at the 2015 Philadelphia SoLow Fest. It has had several iterations since then, including stints at Philly Free Fringe, New Jersey Fringe, The Davinci Arts Alliance and the Bechdel Test Fest. Each Sex Talk show has had its own subtitle to differentiate them, and let the audience know that this is not the same version you may have seen before. Sex Talk (Brooke's Bits) is the title of this current iteration, and is a one-night-stand during this year's Philly Theatre Week. Each production has had new changes made to better fit the cultural climate at the time, as well as the vibe of the audience at any given performance. "The show by nature is super fluid… sometimes it changes by what I'm feeling at the moment, sometimes it's based on the audience. Some audiences really like to talk, some do not" Katherine said of the variety of the piece. 
The show itself is part cabaret, part sex-education talk, which allows for the nebulous structure of the script. Katherine uses humor and a sex-positive attitude to bring the audiences into Brooke's world, and hopefully to learn something along the way. Using parodies of popular musical theatre songs is one of the tools the show uses to usher the audience through some of the funnier parts of body- and sex-positivity. Some titles that audiences will get to hear in Brooke's Bit's include: On My Own (Engaged in Masurbation), Suddenly Semen, and Don't Rain on my Fuckade. While there is plenty of humor within the piece, there is also a lot of well researched information regarding sex and human anatomy: a key factor that Katherine wanted to make sure of when crafting the piece. There are plenty of educational moments in the show, including learning about pronouns and seeing a vulva diagram, so it was important to Katherine to juxtapose the comedy moments with well-informed teaching.
This show could not be coming back at a more important time. An increase in attacks of sex-positive culture, drag performances and the LGBTQIA+ Community has continued to advocate for a world where it is taboo to talk about sex in any kind of positive way. Sex Talk is also a "body celebratory" piece, as Katherine calls it. Celebrating and loving one's own body has been a part of the show since its inception. For Katherine, Brooke is their drag alter ego with a heightened, performative sense of femininity, that is an exploration of stereotypical gender roles. While not overtly political in terms of the discussions that occur within the show, it inherently feels politically charged. However, while Katherine acknowledges the political edge of their show, they decide to focus instead on positivity, creating a space that celebrates all bodies and welcomes all people.
"I'll do it, and then it sits, and then there will be something that makes me want to do it again" Katherine says of bringing the show back for Philly Theatre Week. They continue to work on the piece and evolve Brooke as a character. The Brooke in this version of Sex Talk is more self-assured and confident in herself than previous versions, which is a natural growth for the character as Katherine has aged. "She's not asking for approval anymore." This assuredness of character helps keep the show alive, while also maintaining the cornerstones of sex education. Consent is key to the show, and Katherine uses safe words with their audiences to make sure that everyone is feeling safe and comfortable in the space, which has been used and respected in previous productions.
Katherine sees the future for Brooke as bright. They're already thinking of future versions of this show: smaller, more intimate productions, bringing Brooke into the world of burlesque, and potentially finding a way to travel and perform this show to universites. "I would love to be able to provide some impactful comedy to students who need it, even if that includes pairing Brooke with a licensed sex professional."
You can catch Sex Talk (Brooke's Bits) at its one night stand at Fergie's Pub on March 27th at 6:30pm. 
Tickets can be purchased at https://theatrephiladelphia.org/whats-on-stage/brookes-bits-a-one-night-stand-for-philly-theatre-week
Philly Theatre Week
March 23-April 2